Railway Consultancy opens new offices in Crystal Palace
Owing to continuing business growth and the recruitment of additional staff, the Railway Consultancy Ltd has moved in to new premises located in the South Tower of the Grade II* listed Crystal Palace station. At the official ceremony, over 50 representatives from train operating companies, the SRA, ORR, TfL, Railtrack and local authorities joined Managing Director Dr Nigel G Harris as he invited Alex Warner (Metro & London Terminals Manager for South Central) to open the new offices.
In declaring the offices open, Alex Warner commented: "South Central is pleased to see this station building brought back to life, and welcomes the relocation of one of Britain's leading consultancies to such a prestigious location. The £4m spent on station regeneration at Crystal Palace has made possible the first stage in the re-occupation of this listed building, and we look forward to the remaining parts of the building finding sympathetic use in the near future. The Railway Consultancy's new offices have successfully blended the latest high-tech communications with a tasteful refurbishment in style, reflecting the interesting heritage of Crystal Palace station".
Responding, Nigel Harris said "The Consultancy is glad to be able to reuse railway buildings for an appropriate purpose, especially as they provide for easy access by public transport for clients and staff alike. We are also glad to contribute to a busy and secure environment for everyone at Crystal Palace station. We therefore look forward to a bright future working from these premises for South Central and our many other clients, helping to develop the rail industry for the benefit of its passengers and freight customers alike". However, he warned that the railway industry must make it easier for buildings to be re-occupied, noting that a company not committed to the railway industry would have given up long before, put off by excessive consultation and bureaucracy. He then welcomed all the visitors to view the new offices, accessed via a new doorway directly into the 'new' ticket hall.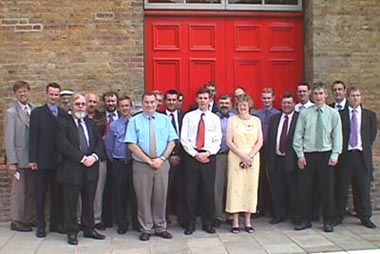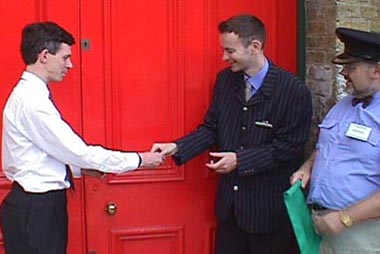 1. Pictures of the event are available as JPEG format files, and can be obtained from Dan Smart at the number below.
2. The Railway Consultancy Ltd is a specialist railway planning consultancy established in 1995, and has particular expertise in:
estimating the demand for new stations and services;
operational planning and simulation;
performance audits;
the identification of railway business opportunities;
economic and commercial issues;
database population and management;
training.
Its six market segments are:
Railtrack;
Transport for London and its subsidiaries;
The SRA, central and local government;
Train operating companies;
Foreign railways and metros;
Other companies in the rail industry.
For further details contact Dr Nigel G Harris on 020 8676 0395.
Last updated: Wednesday, 17th June 2015
https://www.railwayconsultancy.com/press-releases/prnewoffice.php
© 1996-2023 The Railway Consultancy Ltd
Sitemap