Admaston Station Feasibility Study
Client: Wrockwardine Parish Council, Nov 2003 - May 2004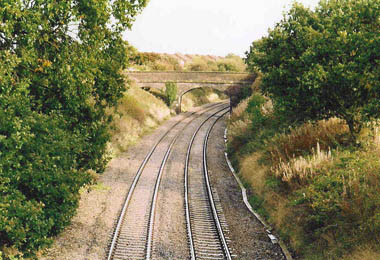 Although the focus of many rail passenger services is on the major urban and Inter-City markets, rail also plays a key role in the regional market, especially where transport issues are considered in new developments. Continued growth in the West Midlands has led to the creation of new housing estates to the West of Wellington/Telford conurbation, at Admaston, Bratton and Shawbirch. These villages are all close to the Birmingham-Shrewsbury railway line but several miles from the nearest station at Wellington.
Wrockwardine Parish Council therefore commissioned the Railway Consultancy to examine the feasibility and cost-effectiveness of providing a station at Admaston. Engineering cost estimates provided by Thursfield Smith Consultancy, and our own estimates of the impact on existing train service operation, were assessed against demand forecasts prepared using our own GCOST™ model. An appraisal of the scheme showed it to have a positive Benefit:Cost ratio.
Emphasising the instability of bus services (and therefore why local authorities look to the railway), the main bus route linking Admaston and Shawbirch with Wellington was withdrawn in April 2004. Wrockwardine PC therefore returned to the Railway Consultancy to reappraise the station in the new situation. As can be expected, withdrawal of the bus service strengthened the case for the railway station, a case which the Parish Council then took forward to seek funding.
Last updated: Sunday, 18th December 2016
https://www.railwayconsultancy.com/projects/admaston.php
© 1996-2023 The Railway Consultancy Ltd
Sitemap