Appraisal of Possible Upgrades to Bletchley Station
Client: English Partnerships, 2006 - ongoing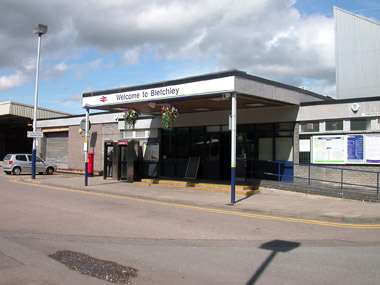 Bletchley station was rebuilt in the 1960s, as part of the West Coast Main Line electrification project, but this did not address the fundamental problem that the main entrance faces away from the town. By 2006, the station was also arguably in need of improvement.
In addition, English Partnerships was seeking to improve the town centre around the station, as part of the Bletchley Regeneration Framework, whilst bearing in mind the need for enhanced facilities for serving an expanded Milton Keynes in the future. The Railway Consultancy was therefore engaged to assist with the appraisal of various options for the station, including a new or extended footbridge giving access to a new ticket hall opposite the bus station. From the railway point of view, this is a relatively simple appraisal comparing the additional operating costs of new infrastructure with the expected increase in demand, although cost information was particularly difficult to obtain.
Working as sub-consultants to engineers White Young Green, who provided a number of physical solutions to these issues, possible options were developed. However, providing public access across the railway, to facilitate development to the West of the railway, provides urban regeneration, not railway benefits, whilst train operators Silverlink were unhappy about use of the railway bridge for the general public. Our analysis was therefore taken forward for discussions about funding from both railway and external sources.
Last updated: Sunday, 18th December 2016
https://www.railwayconsultancy.com/projects/bletchley.php
© 1996-2023 The Railway Consultancy Ltd
Sitemap