Lewes Station Facilities
Client: Southern, Oct 2012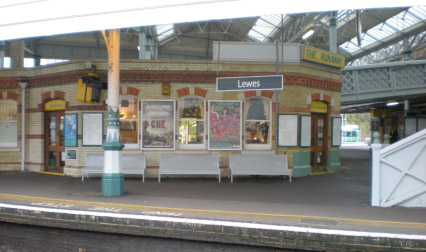 Southern, who manage the station at Lewes, commissioned the Railway Consultancy to investigate how the facilities could be improved to provide their customers with a better experience.
Almost 150 passengers were surveyed over two days and feedback was mixed - while some passengers were content, others wanted improvements or alternatives to the available facilities. A large majority thought Lewes station should have a newsagent and the facilities to serve food and hot drinks.
With these already present passengers also suggested improvements and alternatives they wanted including: a sandwich bar, a mini-supermarket, and a pub/bar. It was obvious that a large chain retailer would not be welcome at Lewes station; however it was suggested that the station could be improved if it had a small independent grocers. Some criticisms of existing facilities were that they were outdated, the choice of available food and drink was poor, and items too expensive. In addition some facilities were not open late enough for commuters returning from work in the evening.
Southern will need to carefully consider how to best cater for passenger needs at Lewes station. Changes such as modernising, extending opening hours and accepting payments by card could make passengers far more satisfied with the facilities; a new business may be more able and willing to bring these improvements and bring the facilities into the 21st century.
Last updated: Sunday, 18th December 2016
https://www.railwayconsultancy.com/projects/lewes.php
© 1996-2023 The Railway Consultancy Ltd
Sitemap