Mock-Up Capacity Simulation for SWT Refurbished Class 455
Client: South West Trains, April 2003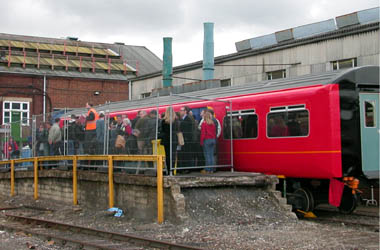 The Class 455 trains used on inner-suburban services by South West Trains are due for a mid-life refurbishment. As well as solving a number of engineering issues, this was considered a good opportunity to rectify some of the interior design deficiencies that are associated with these trains, in terms of for instance, seating layout and door width. This would not only provide an improved passenger environment, but also improve both the capacity of the train and reduce station dwell times.
As part of the process of establishing the project business case and for testing the proposed new layout, a full-scale mock-up of the proposed refurbished vehicle was built at Alstom's Eastleigh depot. The Railway Consultancy Ltd with its wealth of experience in boarding, alighting and station stop studies were then commissioned by SWT to analysis the performance of the layout of the mock-up further.
The nature of the resulting capacity simulation involved performing various timed trials using 90 non-railway staff under controlled conditions to simulate a peak commuter environment at a typical rush hour station. The results of these numerous tests were compared against a wealth of other data on vehicle alighting and boarding times on existing stock already held by the Railway Consultancy. Analysis of the results was able to show the exact effects that various vehicle design changes made on passenger movement rates and hence station stop times, and a number of specific recommendations could be made. Interestingly, the previous model used by London Underground to estimate passenger movement times was shown not to be applicable under the conditions examined.
As a result of this work SWT were able to quantify the benefits of a number of different design options for the refurbished Class 455 vehicles. Work by The Railway Consultancy Ltd confirmed that the new design should contain more standing and circulating space around the doors, vestibules and corridors, and wider doors so that passengers can alight and board quicker.
The first refurbished train entered service in November 2004, with all trains to be completed by 2007.
Last updated: Sunday, 18th December 2016
https://www.railwayconsultancy.com/projects/swtrefurb.php
© 1996-2021 The Railway Consultancy Ltd
Sitemap