Victoria Station Performance Survey
Client: South Central Trains, Sep - Oct 2003; and Southern, Dec 2004 - Jan 2005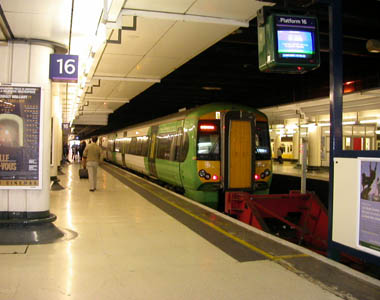 During 2003, train operators and the Strategic Rail Authority increasingly paid attention to train service performance issues. Increases in train service levels and the numbers of passengers carried had put the performance of the railway increasingly under the spotlight, especially after speed restrictions imposed after the accident at Hatfield. Punctuality issues also brought into focus a number of areas in which the performance of one train operator affected another.
The Railway Consultancy were therefore commissioned by South Central trains to undertake an independent and detailed performance study of mainline services (including Gatwick Express) departing from London's Victoria station. With up to 14 departures per hour, of up to 12 carriages in length, Victoria is a busy station, and delays (whatever their cause) soon multiply.
The Consultancy undertook detailed timings of the movements of trains, traincrew, platform and catering staff, and the provision of information throughout three evening peaks. Despite the service running well during our observations, our analysis highlighted where time was being lost, and we made a number of practical recommendations as to how departure procedures could be tightened up, by all those involved in operation of the station.
Further analysis was carried out on the operations of the suburban platforms (9-12) in December 2004.
Last updated: Sunday, 18th December 2016
https://www.railwayconsultancy.com/projects/victoria.php
© 1996-2021 The Railway Consultancy Ltd
Sitemap